UNDERSTANDING DRAIN-WASTE-VENT SYSTEMS
Plumbing Drain-Waste-Vent systems, known as DWV, consist of drain pipes that provide a network for the removal of waste, as well as vent pipes that prevent unwanted gas from escaping inside the building. Vent pipes also maintain the necessary balance of pressure to allow water to flow.
The DWV system uses gravity and air displacement throughout the piping network to properly function and breathe. In a simplified example, think about the tiny holes on a to-go coffee cup lid that allow air into the container. Without proper air flow, there wouldn't be enough pressure in the cup for the liquid to flow out evenly, making it very difficult to sip. In order for a liquid to come out, air must come in.
All DWV plumbing systems require at least one vent penetration through the roof line, which allows air to enter the system, while also permitting sewer gas to escape. Connecting all plumbing fixtures in a building to existing venting systems can be complex and limiting. So, you might be asking yourself if there's a way to bypass this process (and the need for numerous unsightly and expensive roof vent stacks)…cue Air Admittance Valves!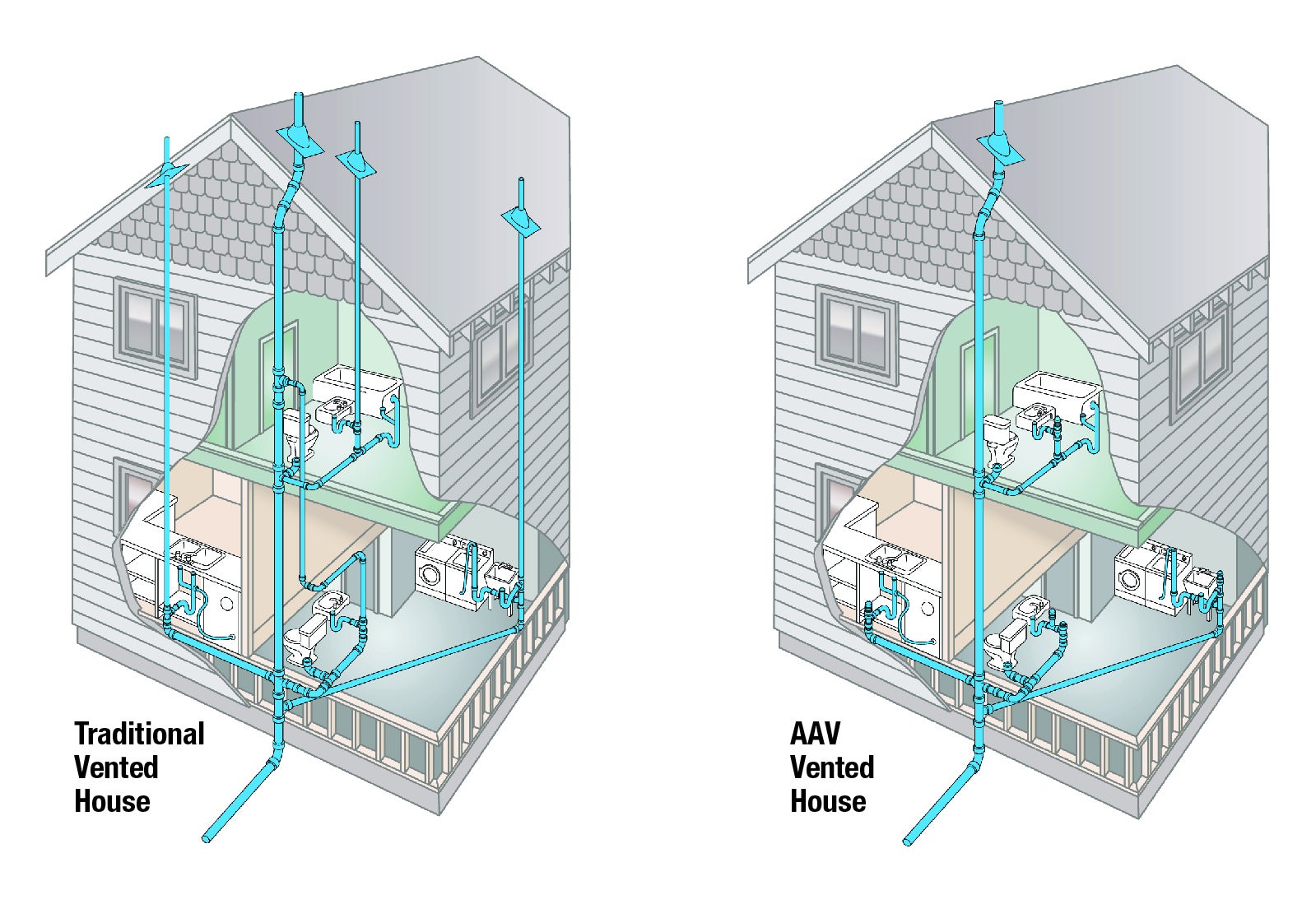 WHAT IS AN AIR ADMITTANCE VALVE?
An Air Admittance Valve (AAV), which you may also hear referred to as a Studor Vent, Studor AAV or Mini Vent, is a one-way mechanical valve that is installed locally at the site of a plumbing fixture, allowing proper venting to occur without a connection to a larger venting system and stack vent.
HOW DOES AN AIR ADMITTANCE VALVE WORK?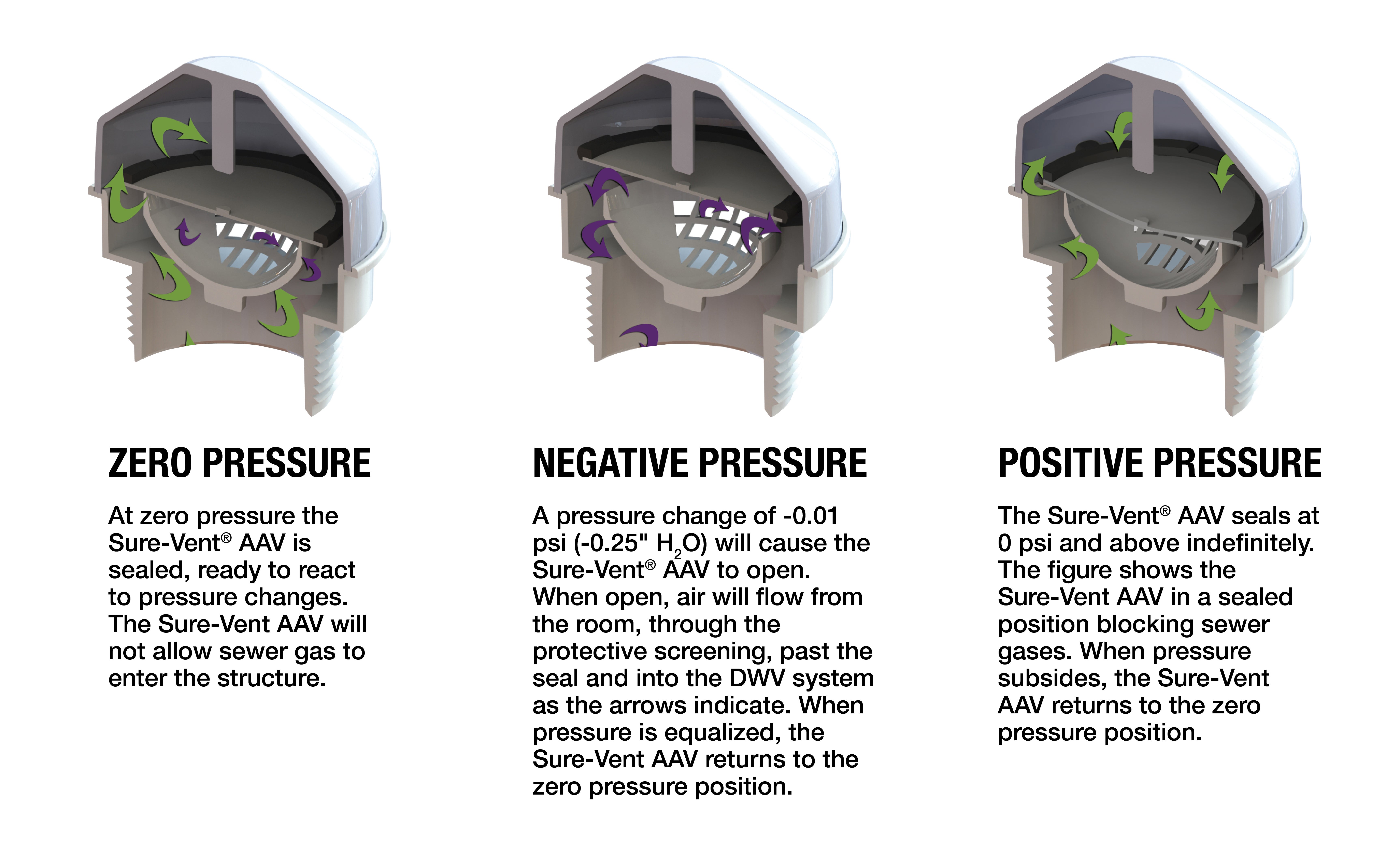 AAVs allow air to enter a plumbing drainage system when negative pressure develops in the piping system (because of the flow of water). When pressure in the system is equalized (indicating that no water is flowing), gravity closes the vent terminal, preventing sewer gases from escaping into a building.
Remember, all buildings must still have at least one stack vent that's directly penetrating the roof – an AAV doesn't take the place of that requirement for the building as a whole.
WHEN DO YOU NEED AN AIR ADMITTANCE VALVE?
1. When you can't connect to an existing venting system
AAVs are a great alternative if you can't connect to an existing venting system due to complex pipe routing issues or obstructions – an ideal venting solution for island sinks, remote bathroom groups, home remodels and additions that would otherwise have to be tied into a stack vent utilizing specialized venting techniques. In other words, AAVs allow homeowners more flexibility in the layout of their plumbing fixtures.
2. To reduce roof penetrations
AAVs open and close in conjunction with normal DWV system operation, which eliminates the need to create another roof penetration. Many homeowners prefer not to vent through the roof line for design and aesthetic purposes, too. Additionally, having less roof penetrations can reduce the risk of leaks over time.
3. To save money
For these reasons, using an AAV requires less labor and supplies, making it a more affordable option than running vent pipe in new construction applications.
Be sure to check with your local municipality before installing an AAV in your plumbing system to confirm the installation will be approved for your particular application.